OPP true to Type at APTi conference
OPP true to Type at APTi conference
The Association of Psychological Type International conference on 22 July focuses on growing Type expertise
OPP CEO Penny Moyle will be there, presenting on "Making type stick as a foundation for lifelong development".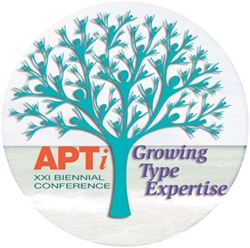 The Conference features over 30 workshops from Type experts. Penny's session will explore new ways of introducing Type concepts so that they stick.
MBTI® and Type-related insights can be a foundation for a life-long development journey. Reflecting on the fact that most people never get beyond their first MBTI introductory session, Penny's presentation reveals how the Type framework can be revisited for new insights whenever a new challenge appears in a person's life.
APTi international is a network of human resource professionals, organisational consultants, professional coaches, counsellors, educators and Type practitioners who come together to learn best practices in using psychological type.
The APTi 2015 21st biennial conference takes place 22-26 July.