Online Knowledge Centre for practitioners
Online Knowledge Centre for practitioners
With an ever-growing library of resources, this is the one page on opp.com that every qualified practitioner should bookmark
The Knowledge Centre is a dynamic window onto OPP's practitioner resources. From here you can find all the latest content relevant to your OPP qualifications, along with an extensive library of reference and research material.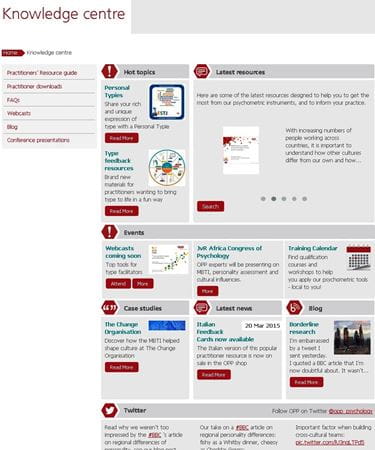 The Practitioner Downloads section has been made more user-friendly. It now provides quick-search access to all OPP materials, with filters for required tool, resource type, business need and language. Each item features a short description and thumbnail to enliven search results.
The new Practitioner Resource Guide, accessible from the Knowledge Centre page, presents the wealth of materials and information available on the site, including customisable sales tools, shop products, webcasts, training courses, events, new website content, and links to social media and OPP's YouTube video content.
The new Knowledge Centre does away with some of the more needle-in-a-haystack aspects of hunting for OPP resources. It's all here at your fingertips, a couple of clicks away.