Italian Feedback Cards now available
Italian Feedback Cards now available
The Italian version of this popular practitioner resource is now on sale in the OPP shop
The set of 29 feedback cards helps practitioners guide clients through individual feedback sessions.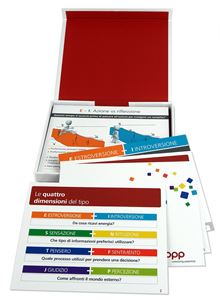 These handy Feedback Cards help practitioners steer the journey of a respondent exploring type for the first time, providing ways to bring each of the preferences to life through pictures, stories and anecdotes. Packaged in a sturdy box and including colourful graphics to bring feedback to life, the reusable cards help deliver inspiring and impactful individual sessions.
With the publication of this latest card set, the feedback cards are now available in Italian, English, Danish, Dutch, French, German, Polish, Russian, Spanish and Swedish.
We will soon be complementing the release of the Italian cards with an Italian language version of the highly popular Flip A Type Tip! resource.
The full range of type feedback products can be viewed on our type feedback resources page.