MBTI Development Workbook makeover
MBTI® Development Workbook makeover
Following input from MBTI practitioners, we've made some small changes to our new workbooks.
The MBTI Development Workbook now includes a fold-out, at-a-glance summary of each four-letter type, to assist in putting together a best-fit type.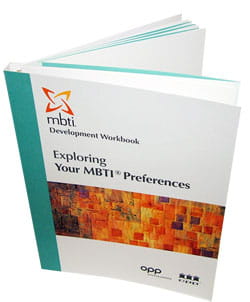 This latest change is in direct response to customer feedback.
The MBTI Development Workbook supports OPP's new recommended feedback process, which helps users to capture notes as they explore their understanding of type and best fit, and formulate actions to take away from their feedback session. It is designed to support continued application of the MBTI framework back in the workplace.
Check out details of the new workbook and other new MBTI resources here.