FIRO B Profile Report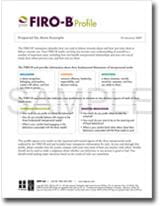 OP0047
FIRO-B® Profile Report
Basic summary of FIRO-B results
This FIRO-B report provides the fundamental principles of behaviours in relationships. It provides qualified FIRO practitioners with a respondent's scores from the FIRO-B questionnaire in a simple grid format.
This report is part of the FIRO-B report family.
The FIRO-B Profile Report contains
Descriptions of the three fundamental dimensions of interpersonal needs
The respondent's FIRO-B scores on Inclusion, Control and Affection presented in an easy-to-understand grid format
When to use the FIRO-B Profile Report
Team development and communication
Awareness of fit to future role
Leadership development
Conflict management
Coaching at all levels
This report can be ordered in various languages through OPPassessment.
New to OPPassessment? Find out how to register.