TKI
TKI® conflict resolution model
The world's best-selling conflict management tool
The TKI (Thomas-Kilmann Conflict Mode Instrument) is fast and accessible, delivering insight, empowerment and resolution to anyone involved in conflict. By identifying alternative conflict styles, it helps people reframe and defuse conflict, creating more productive results.

The TKI questionnaire identifies five distinct conflict styles and provides people with conflict-management solutions. By helping individuals understand their default approach in conflict, it encourages the exploration of alternative ways to handle different situations. And although it's sophisticated, you don't need to be an expert in conflict resolution theories to use it.
No prior knowledge or expertise necessary; suitable for line managers and team members as well as L&D professionals
Fast and accessible – simple to apply, easy to understand
An efficient and economic in-house solution, saving time and money
Immediate, actionable results that transform potentially damaging conflict to foster constructive difference
Increases productivity by reducing wasted time and preventing damage to working relationships
Avoids the costly legal repercussions of workplace conflict
Wide application – can be used for teams and individuals alike
TKI is fantastic for helping people to understand where the issues are in relationships. It's wonderfully practical to use – you don't have to be certified to use it – and people 'get it' very, very quickly.
Michael Brown, L&D Consultant. Michael Brown
Delivers results you can trust, with a raft of research backing up its conflict-management potential
Measures individuals' and groups' approaches to conflict against five conflict handling modes
Identifies preferred responses to conflict and how this affects conflict outcomes
Provides specific tactics for conflict resolution
Creates a positive and constructive environment, for teams and individuals alike
The TKI tool generates a Profile and Interpretive Report, addressing conflict swiftly and productively.
The TKI measures preferences for five different styles of handling conflict, called conflict modes, which are described along two dimensions: assertiveness, or the extent to which a person tries to satisfy their own concerns; and cooperativeness, or the extent to which they try to satisfy the concerns of another person.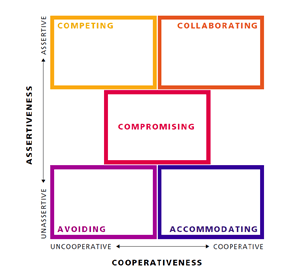 If you would like to start using the TKI questionnaire and report, set-up is quick and simple, as no qualifications are required. Just call our Customer Services team on 01865 404 610 to get started.
Alternatively, learn to harness conflict in the workplace by taking our TKI virtual training course.