FIRO FAQs
FIRO® FAQs
Some frequently asked questions regarding the FIRO instrument
Use the links below to read the separate FAQs.
The FIRO framework looks at an individual's interpersonal needs and how these needs influence relationships. It addresses five key questions.
These insights can help an individual adjust their behaviour in relationships to get what they need while also building trust with others.
FIRO-B reports define the three interpersonal needs as Inclusion, Control and Affection. FIRO Business reports define the three interpersonal needs as Involvement, Influence and Connection.

The FIRO framework is simple to understand and apply, making its use alongside other development techniques straightforward and highly effective.
Due to its focus on relationships, it provides particularly deep insights when used in parallel with a 360 feedback process.
It has also been highly successful as an addition to development initiatives using MBTI
It can be used to address a wide range of applications including conflict, coaching, team development, communication and problem-solving
It is supported by a strong base of scientific research demonstrating its validity as a complementary development tool
FIRO helps people recognise where they may be giving out mixed messages and prompts them to adapt their exhibited behaviours to build trust in their relationships. It also reveals ways of improving relationships by showing individuals how they are seen by others, and how this external view may differ from how they see themselves.
As a result of using the FIRO lens, people are empowered to adjust their behaviour, enabling them to effectively influence others to achieve high performance.
FIRO's easy-to-understand framework gives teams a rich source of information to explore motivations, underlying tensions, inconsistent behaviours and the mixed messages that can lead to mistrust and derailment.
It demonstrates how people may approach teamworking differently, and explains the potential for inefficiencies and delays in delivery. Through the concept of 'behavioural flexibility' it helps defuse cultural stereotypes and streamline cross-cultural teams within organisations. To find out how a customer has used the FIRO framework in this way, read the DBRS case study.
FIRO accelerates the speed at which trust is built by increasing the team's understanding of relationships, and provides tactics for developing stronger bonds between individuals.
For detailed information on language availability for questionnaires and online reports, check our
web page
. To see language availability for FIRO products for purchase, visit
The Myers-Briggs Company's shop
.
The Myers-Briggs Company has created several free online resources to support FIRO practitioners in their coaching and development programmes. These resources can be found in the
Practitioner download
section of The Myers-Briggs Company website.
The European FIRO-B and FIRO Business reports use the same questionnaire for respondents, (ie the FIRO-B questionnaire), but there are key differences in language and norms that may affect which type of report you choose:
Language: FIRO-B reports use classic FIRO terms to describe the interpersonal need areas, whereas FIRO Business reports use business-focused names for the interpersonal need areas.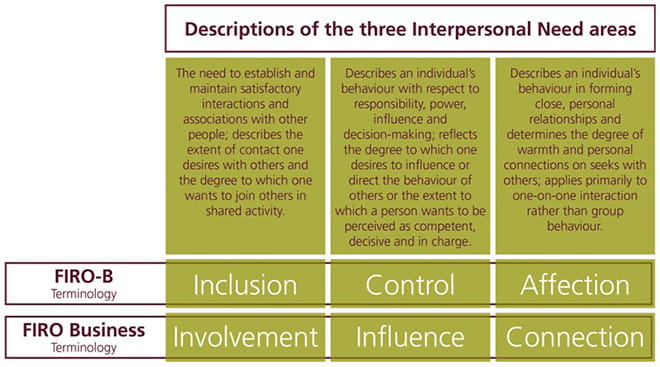 Norm groups: FIRO Business reports are scored using a norm group that has been calibrated on an international sample, whereas FIRO-B reports are based on European research. This makes FIRO Business reports particularly useful for multinational contexts. The norm group covers roles from entry level through to top executive, and includes 10 different languages from North America, South America and Europe. Further details of the norms are available in the FIRO Business Technical Guide, available to buy in The Myers-Briggs Company's online shop. To discuss the international norms in more depth, contact the Consultant Helpdesk on 01865 404 500.
The Myers-Briggs Company recommends that all practitioners using the Business Leadership Report use the FIRO Business Leadership Report User's Guide as an initial reference. We recommend this for two key reasons:
The User's Guide details several important differences between FIRO-B and FIRO Business
The User's Guide provides excellent coaching discussion topics and development tips for the practitioner to embed within the structure of each feedback session
Note: For those who wish to use the FIRO Business Leadership Report with the addition of numbers and scales, it is possible to purchase a FIRO Business Leadership and Profile Report bundle. Please contact our customer support team to find out more.