FIRO Certification
FIRO® Certification
Get certified to use the FIRO framework to improve relationships and team performance
Enhance individual and team effectiveness with an assessment that uncovers the motivations behind communication style and behaviour.

The FIRO instrument reveals how you tend to behave towards others, and how you want others to behave towards you. The FIRO tool identifies three core needs that drive interpersonal behaviour and is a great fit for developing leaders and building high performing teams. Its accessible insights can be applied to improving communication, building trust, enhancing leadership style and diffusing conflict.
The FIRO Certification programme will equip you with the skills to administer FIRO assessments and interpret the results to help people understand the impact of their behaviours on others. FIRO certification provides access to both the FIRO-B and FIRO Business instruments – the latter using business-oriented terminology, and working well in multi-national clients.
This qualification programme is complemented by an additional one-day course, Using the FIRO Instrument with Teams. This extra workshop will introduce you to processes and exercises to run impactful and engaging team events.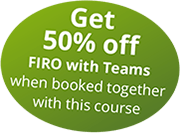 2 days live virtual or in person training, including group and individual activities in the classroom.
Before the course, you will complete an online FIRO assessment and interactive pre-work to introduce the FIRO framework (~3 hours of pre-work). During the two-day workshop you'll engage in varied interactive classroom sessions interwoven with further online self-study modules, reading and reflection activities.
(equivalent to 19 CPD hours)
It doesn't take long to grasp the framework, and once you're there the uses and implications are far-reaching.
Grant Morffew, Managing Director, Omada Consulting.
How to use the FIRO instrument to drive positive behavioural change and unlock potential in workplace interactions
Skills to highlight strengths and blind spots in an individual's approach to building relationships and leadership
Hints and tips for both virtual and face-to-face delivery of FIRO feedback sessions
How to use key resources to optimize your work with the FIRO assessment.
Delivered virtually or in person, this programme embraces the value of experiential learning to build your confidence and focuses on the practical application of the FIRO assessment. Supported by a highly interactive training platform – including features such as break out rooms, interactive whiteboards, voting and chat functions – you'll never feel 'stuck at your screen'. Whether you choose our in-person or virtual workshop, this programme is designed to accommodate different learning styles and involve reflection, different types of interaction and self-study, with regular breaks to help manage your concentration.
The course is delivered by experienced FIRO practitioners who are both expert trainers and coaches to participants. During the course you will practice your feedback skills and receive feedback to build your toolkit and your confidence.
Expand your coaching toolkit with an instrument that can pinpoint fundamental relationship needs
Learn how to build trust, and promote positive relationships in teams
Present leaders with a clear view of their leadership strengths and development areas
Develop your skills and learn to deliver FIRO feedback virtually or in person
Support your learning and delivery with unlimited access to the online FIRO Knowledge Bank, including:


Participant workbooks and scoring sheets
Videos on feedback best practice and how to apply FIRO insights to development and selection contexts
Group feedback slides and facilitator notes
Exercises

Receive complimentary materials, such as FIRO Feedback Cards, Introduction to the FIRO-B Instrument in Organisations and Introduction to the FIRO Business Instrument.
Organisational development specialists

Coaches

HR managers

HR consultants

Team leaders

Training consultants



Join a public programme – see scheduled dates in the calendar below and book online.
Hold an in-house training programme - can't find a date in our public schedule that works for you - or want to train several people within your organisation at the same time? Find out more about in-house training.
Filter by date:
Select courses starting between
Filter by location:
Calendar
Select courses starting between
16 Jan - 17 Jan 2024

€1,590.00 ex VAT
Call to book together and get 50% off the second course!
12 Mar - 13 Mar 2024

€1,590.00 ex VAT
Call to book together and get 50% off the second course!
14 May - 15 May 2024

€1,590.00 ex VAT
Call to book together and get 50% off the second course!
23 Jul - 24 Jul 2024

€1,590.00 ex VAT
Call to book together and get 50% off the second course!
24 Sep - 25 Sep 2024

€1,590.00 ex VAT
Call to book together and get 50% off the second course!
26 Nov - 27 Nov 2024

€1,590.00 ex VAT
Call to book together and get 50% off the second course!