MBTI Personal Impact Report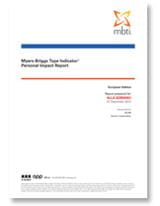 OP0400
MBTI® Personal Impact Report
Deliver an enduring development experience with a single report
The MBTI Personal Impact Report supports a comprehensive development experience by applying MBTI type knowledge to eight key development areas.
The rich, personalised development strategies included within this report can be referenced time and time again. By revealing development areas, blindspots, pitfalls and challenges, it has the necessary breadth and depth to transfer type knowledge into real behaviour change. This report is also available as a bundle with the MBTI app.
To get some ideas on how to use this report, including free pre-planned workshops and activities, please see the Getting the most out of the Personal Impact Report page.
What the MBTI Personal Impact Report contains
The MBTI Personal Impact Report covers eight development areas:
Your Work Style
Your Communication Style
Your Team Style
Your Decision-Making Style
Your Leadership Style
Your Conflict Style
How Stress Impacts You
Your Approach to Change
The report also introduces the concept of preferences and gives reported type, provides a process for getting to self-estimated type and a snapshot of the 16 MBTI types.
When to use the MBTI Personal Impact Report
on every development programme or coaching scenario which aims to explore any of the eight development areas featured in the report
to support a user's MBTI Development Journey where type will be used time and time again to underpin learning
to re-engage users who think that they've already 'done' the MBTI
Accessing the MBTI Personal Impact Report
The MBTI Personal Impact Report is based on MBTI Step I results and can be generated from either the MBTI Step I or Step II questionnaire. Using the MBTI Step II questionnaire enables a user to start their MBTI Development Journey by exploring Step I preferences, and continue to Step II without the need to complete a further questionnaire.
If a respondent's best-fit type differs from their reported type, a new Best Fit Version of the report can be generated at no extra cost.
This report can be ordered in English through OPPassessment by qualified MBTI practitioners.
New to OPPassessment? Find out how to register.