ABLE Series
ABLE job aptitude test
Aptitude tests that reveal potential
The ABLE Series offers five different ability tests suitable for a range of job roles. Each assessment is based on contextualised scenarios, and measures an individual's potential to learn a given task, succeed quickly in a particular job and adapt to changing work environments.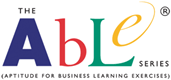 Recruiters can glean a lot about a candidate's past experience and current skills during an interview, but they often struggle to assess someone's ability to handle future work challenges. The ABLE Series provides essential information about both an individual's current ability and their potential to adapt to new situations and to learn. Studies have shown that structured learning exercises such as the ABLE tests are up to 50% more effective than traditional ability tests.
Offers 5 different aptitude tests applicable to a wide range of job roles in many sectors, including customer services, technical, graduate, specialist and managerial roles
Provides objective assessment of aptitude, backed by research into how positive results on the ABLE tests translate into excellent performance on the job
Tests a candidate's ability to learn by first teaching them a series of principals to work from, then asking them to complete tasks that increase in complexity as the test progresses
Provides contextualised, holistic tests that simulate a real workplace, requiring candidates to combine different cognitive skills in order to progress within the simulation, rather than testing them separately
Uses an engaging and motivating approach from the candidate's point of view
Includes a large range of specific norm tables to choose from, so that the most relevant comparison group can be used
Using an ability test from the ABLE Series provides an excellent way to be confident about a candidate's future performance, and helps recruiters understand how they will cope with pressure and with the ups and downs of a real workplace. However, the ABLE tests are also extremely fair, because they assume no prior knowledge of the specific role, and test a person's innate ability to pick up and use new information. The ABLE assessments complement a traditional selection process perfectly, and can be used in conjunction with interviews and personality assessments such as the CPI 260 instrument.
In order to maintain rigorous standards of quality in the field of personality assessment, access to the ABLE Series is restricted to those holding the BPS Test User: Occupational, Ability qualification (formerly Level A).