Type table - who are we (Russian)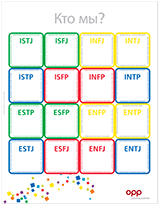 JTRU0909
Type table - who are we? - 10 pack (Russian)
An ideal training aid to bring MBTI type to life
This flipchart-sized poster is an ideal training aid for MBTI practitioners running team events and can be used by teams to share their type with colleagues back in the workplace.
The poster features descriptive terms relating to each type enabling people to identify easily with their type. Dominant functions are shown by the colour of each type square – green for Sensing, yellow for iNtuition, blue for Thinking and red for Feeling.
Why not see the original version of the type table poster.