Le Tour de France – it's all about high-performing teams
Posted 13 Jul 2016 by Claire Bremner, Senior Consultant at OPP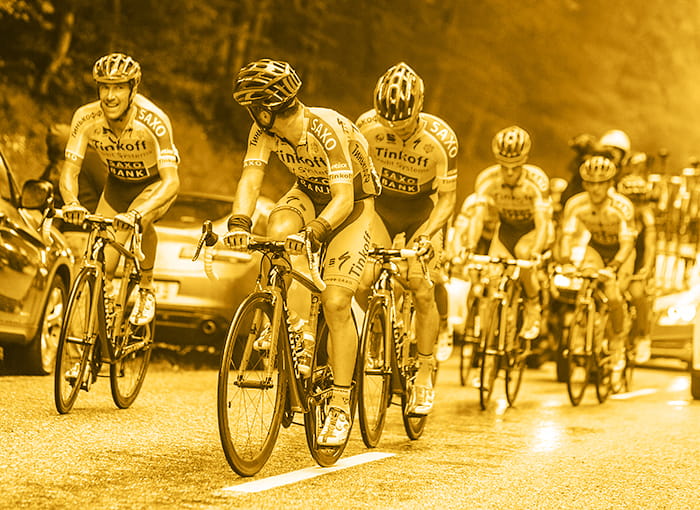 It's that time of year again – when I can be found glued to the Tour de France highlights televised each evening. I am compelled to watch this supreme test of skill and endurance in part because of factors which mirror key themes we encounter time and time again in our work with teams and leaders.
The fascinating blend of individual performance with team work and strategy required to achieve success
Prior to becoming hooked on the Tour de France, I saw cycling as a purely individual sport. I was initially taken aback by the importance of team collaboration in the Tour – even teams in competition with each other collaborate as part of the peloton when chasing down a breakaway group of cyclists. Success for individuals such as Chris Froome wouldn't be possible without the effort and collaboration of his team mates. What is apparent in our work with teams is that alignment and commitment to a shared team purpose, and working together to deliver team results, is what sets high-performing teams apart.
The value of diversity of styles and skills
The Tour provides opportunities for success for sprinters like Mark Cavendish (who, at the time of writing, has 29 Tour de France stage wins under his belt!), specialist climbers such as Nairo Quintana (tight on Chris Froome's wheel this year) and Alberto Contandor (alas withdrew due to illness during stage 9 of this year's Tour), who pull away from the field in the mountain stages, and all-rounders like Froome (who is no slouch in the mountains either). The different points and team competitions within the overall Tour provide individuals and teams with something to aim for during each stage of the race. This is all about playing to the different strengths and skills of team members, and also to the strengths of the whole team. In our work with high-performing teams, we have found that teams who get the best out of each other do so because they truly value diverse styles and skills. They capitalise on each others' strengths.
The agility required to cope with unpredictable changes in the environment
Not only do Tour de France cyclists need to demonstrate the peak fitness and endurance required to cycle between 100 and 140 miles per day during a three-week period (bar two rest days and two shorter rides for individual time trials), but they also need to be able to cope with unpredictable environmental conditions. For example, during the final part of stage 9 of the race, cyclists went from 35°C heat into a hailstorm and temperatures of 10°C, all while cycling uphill and having to maintain their pace so as not to lose time overall. This ability to respond to unpredictable changes in context is another characteristic of high-performing teams.
The importance of planning, team strategy and continuous improvement, alongside adaptability and responsiveness, to take advantage of opportunities as they arise
Let's take stage 8 of this year's Tour as an example. Team Sky clearly had a strategy for the first day of the race as they ventured into the Pyrenees – they drove the peloton by staying up front and setting a brutal pace. At the top of the final peak, Froome led over the top and then unexpectedly took a split-second opportunity to break away on the descent, increasing his lead enough to win the stage and take the yellow jersey. This was all about continuous improvement and the element of surprise (Froome's descending technique was not something he had ever been seen to use before). As well as continuously striving to improve, high-performing teams cultivate the ability to deftly straddle the line between careful planning, and adaptability and responsiveness.