2015 - a year to celebrate coaching
Posted 22 January 2015 by
Penny Moyle - CEO at OPP
Coaching has always been an important part of the L&D service that OPP's consultancy offers. It's also the mainstay of the practice for many of our independent practitioner customers. Why is there such a demand? In short, organisations need their leaders to develop a great range of responses to the challenges they face, and to develop greater psychological resilience. Additionally, many organisations are seeking to develop coaching skills among line managers, knowing that this too can have a significant and positive impact on organisational performance.
This interest and opportunity has inspired us to make 2015 OPP's Year of Coaching, during which we'll be highlighting the many ways in which our tools and different techniques can be applied to coaching through our blog posts, webcasts and events.
OPP offers quite a choice of assessments and we are aware that navigating this portfolio can sometimes feel daunting and be potentially confusing for a coachee to get their head around the different psychological frameworks, even if the coach themselves is fully conversant with them all. Knowing how and when to introduce a different tool is critical. OPP's Coaching Tree is a metaphor we use to describe how we see the different assessments fitting together.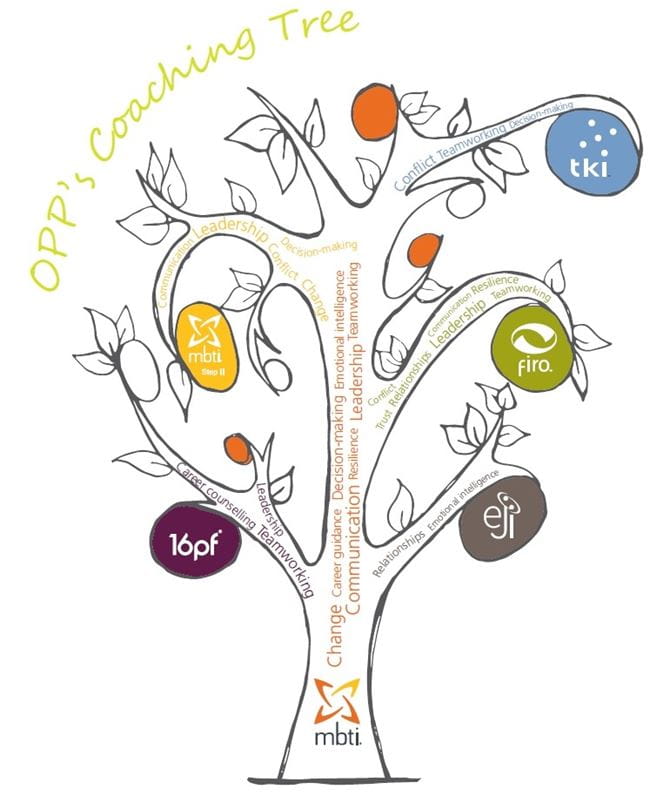 Typically we start with MBTI Step I because it's a simple and positive framework, which is easy for the coachee to understand and start using right away. It can, in and of itself, support a significant Development Journey, being used as a reference point to provide insights on a large number of different challenges and applications. These form the trunk of our Coaching Tree.
In the course of a coaching relationship, it is often helpful to build on the simplicity of the MBTI Step I framework with other personality assessments to provide greater depth and breadth. These are the branches of our tree, each one providing new perspectives and insights on different personal and workplace challenges.
Over the course of 2015, we will highlight how each of these can be used alone and in conjunction with the MBTI Step I framework.
We hope that you'll enjoy this exploration of coaching and are inspired to continue your own Learning Journey by adding new instruments to your coaching toolkit. Please be sure to let us know of any specific questions you have, or topics you'd like us to cover, either by commenting below or contacting us via one of our social media channels.
Download a high-res pdf of OPP's Coaching Tree.