Core Characters of Type
Core Characters™ of Type
A simple way to explore key drivers for MBTI Types
Handy PowerPoint slides that give you instant access to the power of Type Dynamics
While there is value in working with the MBTI framework at the level of the individual preferences (E–I, S–N, etc) and combinations of preferences (ST, SF, NF, NT), the real power comes from exploring the dynamic interaction between all of the parts of a client's Type. The hierarchy of the functions (S, N, T and F), and whether they are introverted or extraverted, reveals how accessible and how developed each is likely to be.
But it can feel difficult to talk about Type Dynamics without becoming too technical. That's where the eight Core Characters come in...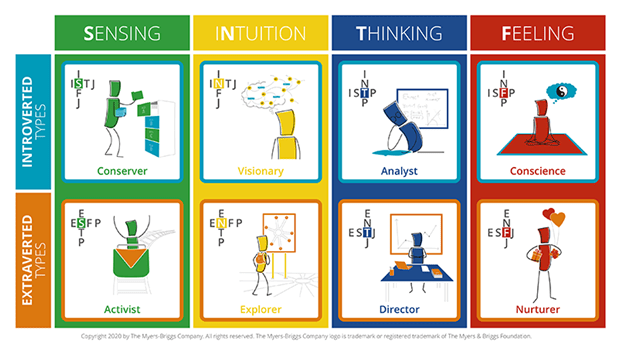 Each Type has a cast of characters with our favourite Core Character (dominant function) taking the lead. This is the part that gets most attention and is the root of a person's intrinsic motivations, and in a well-developed Type is supported by three other Core Characters.