FIRO Foundation
FIRO® Foundation Programme
At this moment in time we are only running these courses virtually but do check back to see when we run these in person in the future. Please check our training calendar for details or contact us if you have any questions.

Qualify to use FIRO assessments to improve personal relationships and professional performance
Enhance individual and team effectiveness by uncovering the motivations that influence communication style and behaviour.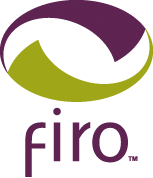 The FIRO instrument reveals how you tend to behave towards others, and how you want others to behave towards you. Based on the premise that people have three core needs that drive their interpersonal behaviour, FIRO is a great fit for developing leaders and building high performing teams. Its accessible insights can be applied to improving communication, building trust, enhancing leadership style and diffusing conflict.
The FIRO Foundation Programme will equip you with the skills to administer FIRO assessments and use the results to help others understand the impact of their behaviours on others. FIRO qualification provides access to both FIRO-B and FIRO Business instruments – the latter using business-focused terminology, and being particularly useful for multi-national clients.
This interactive workshop is complemented by an additional one-day programme, Using the FIRO Instrument with Teams, which introduces processes and exercises for running impactful and engaging team events. 15% discount applies when both courses are booked together.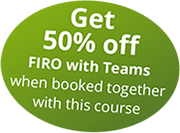 2 days + 3 hours pre-work (equivalent to 19 CPD hours)
This programme embraces experiential learning to build your confidence, and focuses on the practical application of the FIRO assessments. Approximately 3 hours of interactive online pre-work is provided to introduce the FIRO framework. Post-qualification, you will have unlimited access to a comprehensive online Knowledge Bank to support and enhance your FIRO sessions.

Expand your coaching toolkit with an instrument that can pinpoint fundamental relationship needs
Learn how to build trust, and promote positive relationships in teams
Present leaders with a clear view of their leadership strengths and development areas.
Organisational development specialists
Coaches
HR managers
HR consultants
Team leaders
Training consultants
Join a public programme – see the calendar below to book on a course in the UK. Based outside the UK? Find your local training partner.
Hold or join an in-house training programme - can't find a date in our public schedule that works for you - or want to train several people within your organisation at the same time? Find out more about in-house training.
Filter by date:
Select courses starting between
Filter by location:
Calendar
Select courses starting between