2020 Business Charity Award
2020 Business Charity Award
The Myers-Briggs Company and PACT receive high praise for charity partnership
The 18-month partnership between The Myers-Briggs Company and PACT – Parents and Children Together – has been highly commended at this year's Business Charity Awards.
The Business Charity Awards 2020 showcase the people and teams behind amazing third sector partnerships and their impactful work.
Although this year's awards ceremony was unfortunately cancelled due to the Covid-19 situation, judges virtually recognised those they considered most remarkable, committed and impactful.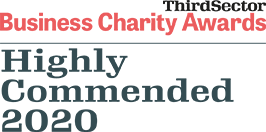 The Myers-Briggs Company and PACT were highly commended in the Short-Term Partnership category for 'Building Resilient Families'.
PACT is one of the UK's leading independent adoption and family support charities, helping hundreds of families every year. In 2018, it was chosen as our first UK charity partner as part of The Myers-Brigg's Company's B Corp certification and desire to increase community impact.
The partnership formed with the aim of supporting PACT's work through fundrais-ing, volunteering and pro bono work. Nearly £13,000 of funding was generated from a wide-range of employee-led activities and over £40,000 of professional services support provided to the charity.

One aspect of the support resulted from information shared by PACT into how diffi-cult the adoption journey can be for prospective parents, and how challenging it can be when people drop out of the process. Both organisations recognised the im-portance of self-awareness and resilience for everyone embarking on this life-changing journey and worked together to develop a programme to help prospective adopters embarking on the adoption path.

Read more about this award-winning charity partnership.