MBTI User Conference agenda unveiled
MBTI User Conference agenda unveiled
London conference for MBTI practitioners sure to be a sell-out
Full details of this year's MBTI User Conference in London have been released.
The one-day conference on Friday 24 June at the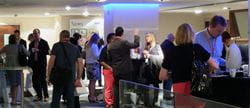 Millennium Gloucester Hotel in Kensington is a must-attend for MBTI practitioners looking to enhance their skills. The event agenda is packed with professional development that will deliver fresh ideas and new insights to enhance MBTI work.
The programme offers keynotes from international MBTI experts Hile Rutledge, President and Principal Consultant of US-based Otto Kroeger Associates, and Damian Killen, founder of Dublin-based HR consultancy Thrive and co-author of Introduction to Type® and Conflict and Introduction to Type® and Innovation. The programme also features two parallel tracks of engaging practical sessions delivered by OPP's experienced thought leaders, trainers and consultants.
The event promises to be an inspirational and educational day for around 200 MBTI practitioners from the UK and Europe. Sessions will explore:
team development
leadership development
coaching
dealing with stress
influencing
Type development through mid-life transitions
our latest research on communication style and work environments
Attendees will also have the opportunity to discover and apply the complementary insights of their FIRO profile.
See the full agenda with session synopses and speaker details and book your place today.