OPP consultants out and about: risk management and media
OPP consultants: risk management and media
Global provider of risk management uses MBTI framework for ongoing development
This week, OPP's consultants return to the risk management and media sectors.
Last autumn, our consultants delivered a group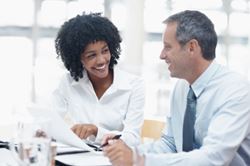 development session in London for a global provider of risk management, which involved 40 participants from around the world. The session used the MBTI framework to create a common language and foster self-awareness within a team context.
This week, our consultants return to this client to deliver five development sessions on a one-to-one basis, including MBTI feedback, as the client continues to embed MBTI awareness and insight within the organisation.

Continuing our work with a large media group, OPP delivers a self awareness workshop this week as part of an ongoing leadership development experience for the group's senior leaders. Using the MBTI instrument, the workshop focuses on the way individuals in the group prefer to work, and the impact that this has on others.
Find out more about OPP's business psychology consultants.