New MBTI report with twice the insight
New MBTI report gives twice the insight!
Introducing the MBTI® Comparison Report: Work Styles
The MBTI Comparison Report: Work Styles helps any two individuals learn to use their similarities and differences productively and build on their combined strengths.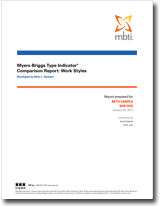 The MBTI Comparison Report: Work Styles unlocks greater understanding, contributes to conflict reduction, and paves the way to better workplace relationships and improved organisational performance. It contains:
A paired comparison of any two MBTI types, to identify similarities and potential blind spots
Insights in four development areas specific to effective working relationships - Communications, Taking in Information, Decision Making, Project Management
A suggested joint action plan
Currently available in English only, the launch of this MBTI report is part of our drive to provide practitioners with MBTI products to suit all situations.