New Spanish and Polish type resources
New Spanish and Polish type resources
Spanish Group Feedback Kits, and Spanish and Polish versions of the Flip A Type Tip! and Feedback cards now available
These new feedback and type materials are on sale in the OPP shop.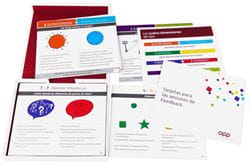 The Spanish version of the Group Feedback Kit includes all the tools you need to introduce preferences and run short exercises. It enables you to reduce preparation time for group feedback sessions, and deliver memorable, fun, experiential exercises.
The Flip A Type Tip! is our bestselling quick-reference guide to type preferences, a simple and effective way of helping participants use type in their everyday working life. The Polish and Spanish versions are the latest in our multiple language roll out.
The boxed sets of Polish feedback cards and Spanish feedback cards are an indispensable resource for qualified practitioners, perfect for one-to-one type-based feedback sessions.
The new products can be purchased in the Type Resources section of our online shop.