EY Academy of Business champions MBTI in Russia
EY Academy of Business champions MBTI® in Russia
OPP Alliance Partner uses MBTI process to further people skills amongst business leaders
The MBTI process had been part of EY managerial training for many years, making it a natural choice when the organisation was looking to focus on people skills for a wider external audience in the Russian CIS.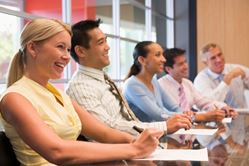 "There is a growing demand in the marketplace for 'soft skills'," says Olga Beglova, Executive Director, EY. "MBTI is the starting point for this type of personal development work. There's a growing awareness of the possibilities of this tool in the Russian workplace, and its application in such areas as teams, stress management, coaching and others."
Originally part of a five day managerial course, EY Academy of Business' MBTI training has since become a standalone 1-day event. To find out how this is transforming people's approach to leadership, read the full EY case study.
The EY Academy of Business has been a leader in providing professional education and training services in the CIS since 1993. Within this period of time, over 65,000 professionals from leading companies have taken part in Academy of Business training.