MBTI Career Report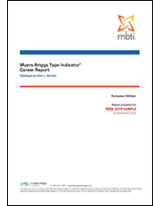 Available in (click for sample)
OP0127
MBTI® Career Report
Help your respondents find their best-fit career

The MBTI® Career Report helps respondents explore their career options to find the best fit based on their personality preferences. This 10-page report provides invaluable insights into preferred work tasks and environments for people of each MBTI type. It also includes most popular and least popular occupations lists for each type and preference-based development strategies to improve job satisfaction.
We recently updated the MBTI® Career Report to make it more robust and relevant for today's workforce. Based on our largest data sample yet—over 1.3 million working adults reflecting the latest O*NET™ occupations—the report delivers more accurate career insights than ever before. For more information about the new data sample, please see our Technical Brief for the Updated MBTI® Career Report.
The MBTI® Career Report contains
Your respondent's MBTI® Step I™ results
How type affects career choices
How type affects career development
Ranking of job families and most/least popular occupations for your respondent's type
Preference-based strategies to optimize career exploration and improve job satisfaction
When to use the MBTI® Career Report
Career planning and transition
Career counselling and outplacement
General personal or professional development
Accessing the MBTI® Career Report
The MBTI® Career Report is based on a respondent's four-letter MBTI® type. It can be generated using results from the MBTI® Step I™ or MBTI® Step II™ assessments. Using the MBTI Step II assessment allows respondents to explore their Step I preferences and then continue to Step II without having to complete a second assessment.
If a respondent's best-fit type differs from their reported type, a best-fit version of this report can be generated at no extra cost.
This report can be ordered in English through OPPassessment by qualified MBTI practitioners.
New to OPPassessment?  Contact Customer Support on 01865 404 610 or e-mail us.