Business Decision Analysis Candidate Bundle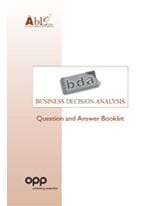 AB0405
Business Decision Analysis Candidate Bundle
Candidate Bundles contain new copies of the materials that are used by the candidates every time they take an assessment.
Everything that is used by a candidate is resupplied to keep you topped up and to keep your ABLE set complete. The material used by the candidates is always presented with the associated leaflets and instructions to ensure every assessment is fully supported.
Business Decision Analysis Preview leaflet (pk 10) – consumable
Preview Leaflets are to be distributed to each candidate prior to the assessment being undertaken. It will enable them to understand why the tool is being administered, how the assessment works and what to expect. It also answers all necessary preparatory questions and how to effectively undertake the assessment.
Business Decision Analysis Question and Answer booklet (pk 10) – consumable (not available for individual purchase)
The Question and Answer Booklet is required by all candidates undertaking the ABLE Business Decision Analysis assessment. It details the assessment instructions and is where the candidate will record their answers. This document is required to be used with the Business Decision Analysis Information File. Once the Business Decision Analysis Question and Answer Booklet has been completed by a candidate, it will need to be marked using the Business Decision Analysis Scorekey. 
Business Decision Analysis Administration Instructions - required by the invigilator
Administration Instructions set out the precise rules and procedures that are used to keep the delivery of every assessment identical. Follow the instructions and deliver every appraisal consistently.