Typies notebooks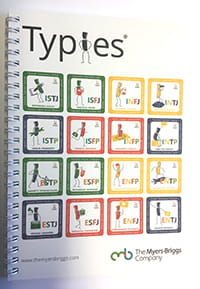 JT3010
Typies notebooks (pack of 10)
Colourful and fun notebooks for training events, and for you!
A practical give-away to help Type stick during and after your session
Typies are a fun yet effective way to convey and enhance understanding of Type. The essence of each of the 16 Types is captured in a colourful character, a descriptive name, and adjectives typically associated with that Type. The border of the Typie and the character reflect the Type's dominant function (Green – Sensing, Yellow – iNtuition, Blue – Thinking, Red – Feeling) while the object the character interacts with reflects the Type's auxiliary function.
These A5 notebooks are wirebound with 50 sheets of 90gsm lined notepaper and 300gsm covers front and back. The front cover provides a handy Type table for reference. It also features the url where individual Typies can be downloaded to print out or share.
Typies notebooks are sold in packs of 10.