OPP charity partnership
OPP charity partnership
PACT chosen to be OPP's first official charity partner
We are delighted to share the news that Parents And Children Together (PACT) is our charity partner!

Family support charity Parents And Children Together (PACT) and business psychology provider OPP Limited (OPP) are starting a charity partnership in May 2018.
After meeting with several charities, we selected PACT because of the opportunities to collaborate and potentially make a ground-breaking difference to the adoption process.
Our staff are already involved in fundraising and raising awareness for PACT. A team of 11 took part in the Oxford Town & Gown 10K race on May 13, and others are joining PACT's Marathon in May challenge, aiming to run, walk, cycle or swim 26.2 miles this month. These initiatives support our commitment to the wellness of our workforce, and to making a difference to the local community.
PACT is one of the UK's leading independent adoption agencies, and last year placed 82 children with 57 adoptive families. PACT also runs award-winning adoption support services and community projects including Alana House for vulnerable women including those at risk of offending, and Bounce Back 4 Kids, which works with children affected by domestic abuse.
PACT Chief Executive Jan Fishwick OBE said, "We are thrilled and excited to have been chosen by OPP as their charity partner. We have been so impressed by the level of engagement OPP staff have had with our services and the number of challenges and events planned already."
"We are also very excited about working with OPP on a project where their expertise could offer an innovative development to improve the adoption process."
OPP's Chief Financial and Administrative Officer, Liam O'Connor added: "Our employees have done great things to support a range of local charities in the past, but we are truly delighted to be embarking on our first official charity partnership with PACT. They are a fantastic organisation with a genuine passion to create positive change in the way the adoption process works for parents and children. This struck a real chord with our staff and echoes our own desire to enable people to lead more successful and fulfilling lives."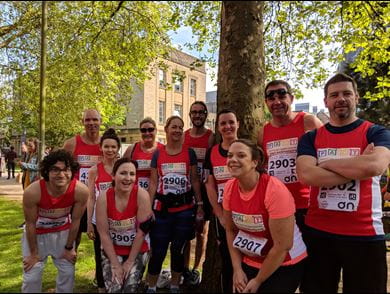 For information about PACT and its adoption services, please visit www.pactcharity.org
More about PACT
PACT has been building and strengthening families since 1911 through its community projects across the Thames Valley and as an independent adoption charity in London and the South.
In 2017, 196 women accessed Alana House in Reading and West Berkshire for groups, courses, drop-ins and one-to-one support, and the Bounce Back 4 Kids project supported 38 children and their non-abusing parent over the year.
PACT helps find forever families for the 2,030* children waiting to be adopted in England. PACT's adoption services were judged to be Outstanding at an inspection by Ofsted in March 2017. (*Figures from CoramBAAF)
PACT operates award-winning therapeutic services called FACTS (Family And Children Therapeutic Support) – a range of bespoke services to support adopted children and their families. Services include creative play therapy, life story work, counselling, clinical psychology and homeopathy. FACTS was voted Voluntary Adoption Service of the Year in the BAAF National Adoption Week Awards 2013.
PACT is one of the leading adoption charities in the Consortium of Voluntary Adoption Agencies (CVAA) in terms of placing more children with loving families. In 2017, PACT placed 82 children with 57 PACT families through its adoption services.