OPP consultants
OPP consultants
Using the MBTI framework with bChannels
Leadership development in the global technology sector, and raising individual awareness in healthcare – these are the programmes being delivered by OPP's consultants this week.
Oxford-based bChannels specialise in designing and managing indirect routes to market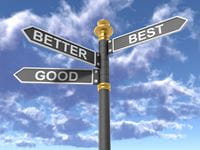 for global technology companies. Last year, we worked with them to design a leadership framework and create a common language to identify the skills and capabilities that will make them as successful as possible.
Our consultants are now delivering a leadership development programme. Drawing on the MBTI framework and 360° feedback, the programme explores what it means to be a leader, and how to develop and unlock potential.
Elsewhere in the global technology field, we continue the leadership development theme. Our consultants are working with a client to explore the role of preferences on communication and influence, review the team's strengths and blind spots, and develop actions to help leaders work together more effectively.
Finally, our consultants use the MBTI framework in the not-for-profit sector as part of a wider development programme for a large healthcare organisation. This week's module is 'Getting to Know Yourself Better', which aims to raise individuals' awareness of their personality preferences and core strengths, develop their understanding of how others differ in their preferred ways of working, and apply these insights at work.
Find out more about the work of OPP's consultants here.