OPP consultants
OPP consultants in healthcare and finance
MBTI masterclass for clinicians
Two clients in healthcare and finance show long-term power of MBTI framework
This week, our consultants deliver a one-day masterclass to a group of clinicians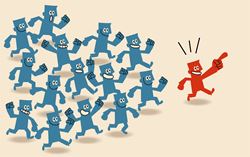 as part of their 'Delivering the Future' programme.
This highly successful programme has been running for 10 years, and focuses on using the MBTI tool as a framework to help leaders influence and persuade others. The workshop explores ways to lead through change and how personality Type affects communication style, providing an opportunity for participants to practise 'flexing' their style and approach.
Elsewhere, another long-term client receives individual MBTI feedback sessions from our consultants. For this client – a finance sector organisation who we have worked with for more than five years – the MBTI framework is core to their people strategy: it is used to increase individuals' awareness of themselves and of others, and it forms the basis of leadership development, helping people to achieve their potential as new leaders.