Launch of Dutch MBTI PIR
Launch of Dutch MBTI PIR
Dutch language version of the MBTI assessment's most comprehensive MBTI report out now
The MBTI® Personal Impact Report (PIR) is the most all-encompassing MBTI report yet.
The report supports a thorough development experience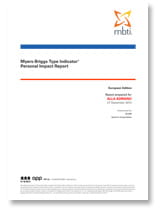 by applying MBTI Type knowledge to eight key development areas:
Your Work Style
Your Communication Style
Your Team Style
Your Decision-Making Style
Your Leadership Style
Your Conflict Style
How Stress Impacts You
Your Approach to Change
The MBTI PIR is now available in Dutch to add to the existing English, French, German, Russian and Swedish translations. It's all part of our mission to make extend the reach of the MBTI tool, and to enhance end-user experience.
Find out more about the MBTI PIR here.