The world is changing; are you ready?
Keynote session by Jeanine Over de Linden-Buquet
Fourth industrial revolution, disruption, young generations... what is the impact of those radical changes on our HR jobs? How to support individuals and organizations to cope with these new ways of thinking?
This MBTI event conference keynote aims to synthetize the main present and future changes and to reflect, assess and question their consequences on our HR practices.
About Jeanine Over de Linden-Bucquet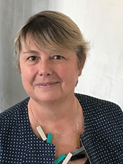 Brought up in a multicultural environment, Jeanine Over de Linden-Bucquet gaduated from ESSEC Business School. Her early multicultural experience and international background made her work for AIR FRANCE where she held Marketing, Sales and Operational line management positions for 12 years, managing staff up to 500 people. Long standing people management experience led her then to work for European HR consulting firms on assignments over Europe for Blue Chip organizations but also for smaller companies.
Her fields of interest are management training, competency assessment, development centres for high potentials, teambuilding, executive coaching, career coaching, expat coaching and personal development.
Lecturer, trainer and coach in several Business schools on international dual careers management, expatriation and personal development topics using intensively the MBTI Indicator, she has also been career counsellor at INSEAD MBA.
Associate Consultant for OPP France since 11 Years, she runs MBTI ® qualifying training and consulting programs.
Certified Executive Coach from HEC Executive Program,

NLP Master Practitioner,

Certified MBTI Step I § II,

Baron EQ Emotional Intelligence,

Trained in student coaching, Non-Violent Communication, psycho-sociological risks, 360° Tools.

Accredited lecturer in Intercultural Management - the Hofstede Centre