Sensing and iNtuition: Take my word for it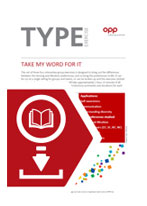 JT0923e
Sensing and iNtuition: Take my word for it exercise eBook
Type exercise: how to use the Sensing and iNtuition preferences to understand diversity of type and its impact for communication. The exercises are a useful starting point for developing an improved appreciation of different communication styles.
This interactive type exercise contains three exercises. The preference pair of Sensing and iNtuition (and also the functional pairs ST, SF, NT, NF) is used in specific exercises. The eBook format is ideal for working in virtual situations, delivering a pdf direct to clients.
The exercises can be run at a single sitting for groups and teams, or broken up and slotted into an existing programme. Each exercise comes with examples of typical responses from each preference, and includes additional tips for facilitators. 
Type exercise series – eBook.
Additional type material required: S and N posters (x1 of each) for exercise 1
Additional type material required: Functional pairs posters (set of 4) for exercise 3
Applications: self awareness, communication, understanding diversity
Type preference studied: S/N (also functional pairs)
Time required: 75 minutes