Judging and Perceiving: Work With Me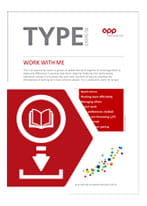 JT0922e
Judging and Perceiving: Work With Me exercise eBook
Type exercise: how the Judging and Perceiving preferences can help people to work better with others.
This exercise uses the Judging and Perceiving preferences to focus on how people could work more effectively together. The eBook format is ideal for working in virtual situations, delivering a pdf direct to clients.
This exercise is useful in identifying 'blockers' to performance and highlighting ways to work better together. This exercise can be used with teams or with groups of people, but is particularly useful for project teams.
Type exercise series – eBook.
Additional Type materials required: Flip a Type Tip booklet (x1 per person)
Applications: working more effectively with others, managing others, project work
Type preference studied: J/P
Time required: 45 Minutes