Whole type: What Are You Like? exercise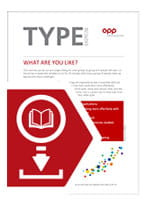 JT0920e
Whole type: What Are You Like? exercise eBook
Type exercise: how all of the preference pairs can improve the way people work together.
This exercise makes use of all preference pairs to improve the effectiveness of working with others, and to increase trust. The eBook format is ideal for working in virtual situations, delivering a pdf direct to clients.
This exercise helps people to look at each others' strengths, blind spots, what each person likes, and the difference each person contributes to the relationship. It is a great way to keep type alive after a group have invested in learning about their four-letter type.
Type exercise series – eBook.
Additional Type materials required: Flip a Type Tip booklet (x1 per person)
Applications: working more effectively with others, team trust
Type preference studied: any
Time required: 20 minutes per pairing