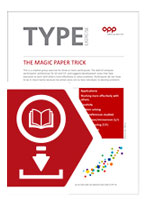 JT0915e
Extraversion and Introversion: Magic Paper Trick exercise eBook
Type exercise: using Extraversion and Introversion, and Thinking and Feeling, to solve problems with other people.
This is a creative group exercise for three or more participants. The debrief analyses participants' preferences for E/I and T/F, and suggests development areas that help everyone to work with others more effectively when problems need solving.
Type exercise series – eBook.
Applications: working more effectively with others, creativity, problem solving
Type preference studied:  E/I  and T/F
Time required: 45 minutes