Temperament pairs posters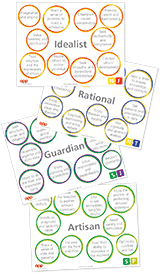 JT0912
Temperament pairs posters (set of four)
Posters helping practitioners apply the temperaments lens
These four reusable posters completes a series of tools to help type-familiar users discover another lens for applying their preferences.
Focusing on David Kiersey's temperaments preference combinations (NF, NT, SJ or SP), this lens is particularly helpful in exploring people's attitudes to leadership – both their own style as a leader and the type of leadership they respond to as a follower. 

With lively phrases describing the core of each temperament, these posters help users recognise how people with different temperaments approach a task. Practitioners can use these posters in conjunction with the functions posters and/or the quadrants posters to carry out a series of 'living type table' exercises.