Functional pairs posters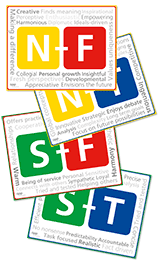 JT0906
Functional pairs posters (set of four)
Resources to support type application
This set of four reusable posters is one of a series of tools to help teams who know their best-fit type discover a new lens for applying their preferences.
Focusing on the middle two letters of each person's type (NF, NT, SF or ST) and how they combine, the functional pairs lens is particularly helpful in exploring communication, influencing and decision-making styles.
With colourful descriptors that capture the essence of each functional pair, these posters help users get to grips with how their type is expressed and how others differ. Practitioners can use these posters in conjunction with the quadrant pairs posters and/or the temperament pairs posters to carry out a series of 'living type table' exercises.