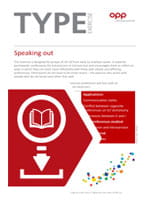 JT0930e
Extraversion and Introversion: Speaking out exercise eBook
Type exercise: how to use the Extraversion and Introversion preferences to work more effectively with others. Suitable for groups and teams.
This interactive type exercise encourages participants to explore, and then reflect on, ways in which they can work more effectively with people who have similar or differing preferences. It works well with groups of 10–20, and requires at least four people with an Introverted preference and four people with an Extraverted preference. The exercise comes with example debrief questions for the facilitator to use, as well as typical responses from each of the preferences.
Type exercise series – eBook.
Applications:  Communication styles, Conflict between opposite preferences on E/I dichotomy, Differences between E and I 

Type preference studied:  Extraversion and Introversion
Time required: 20 - 25 minutes