Measuring Results of MBTI® Type Training: ROI in action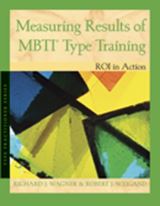 MB6175
Measuring Results of MBTI® Type Training: ROI in action
Introduction to ROI and generalized discussion
In today's resource-strapped, results-oriented organizations, executives and training professionals urgently need to know—and show—the ROI on their training programs.
But tracking down the answer has been out of reach for many—until now. The booklet includes an introduction to ROI and generalized discussion; exploration of the Wagner-Weigand model and theory; presentation of the ROI Survey and guidelines for its use; a sample case demonstrating actual application of the survey; and sample group exercises. With Measuring Results of MBTI® Type Training: ROI in Action, HR professionals and practitioners finally have the tools to not only understand and measure the ROI of their MBTI training but also establish tangible results that prove the effectiveness of their training program.
Related products
Apply MBTI insights to other common challenge areas.