Myers-Briggs Report for Healthcare Professionals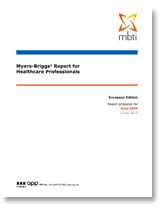 Available in (click for sample)
OP0402
Myers-Briggs® Report for Healthcare Professionals
Using MBTI® preferences to serve patients better
Written specifically for healthcare professionals, this report provides recommendations on how to improve communication and flex care style to increase patient satisfaction.
The report provides insights into how you deliver information to and spend time with patients, as well as why misunderstandings and conflicts may sometimes arise when giving care. Recognising that caring can often take place within a stressful environment, the report also describes the impact of work stress as it affects your care style, and provides tangible advice for 'how to get yourself back'.
Why use the Myers-Briggs Report for Healthcare Professionals?
It gives invaluable insights that can support shift in expressed behaviours to foster a more mutually rewarding patient-centred service
It raises awareness of how personality preferences impact on style of care
It provides actionable insight and suggestions for flexing care style to encourage better interactions with patients. 
Sections of the report include:
Your MBTI type description
Making patients feel comfortable
Helping patients understand the details of their care
Assuring patients that their opinions about their care matter
Being responsive to patients' needs
Educating patients about their condition and making healthy choices
Managing your stress and the impact it has on patients.
When to use the Myers-Briggs Report for Healthcare Professionals
The report can help doctors, nurses, healthcare assistants and other clinical staff involved in patient care who want to increase their communication effectiveness to:
Help patients be better informed
Show patients that they are listening to them
Create a supportive environment
Help patients manage the side effects of treatment
Support post-care transition
Accessing the Myers-Briggs Report for Healthcare Professionals
The Myers-Briggs Report for Healthcare Professionals is based on MBTI Step I results and can be generated from either the MBTI Step I or Step II questionnaire. Using the MBTI Step II questionnaire enables a user to start their MBTI Development Journey by exploring Step I preferences, and continue to Step II without the need to complete a further questionnaire.
If a respondent's best-fit type differs from their reported type, a new Best Fit Version of the report can be generated at no extra cost.
The report can be ordered in English through OPPassessment by qualified MBTI practitioners.
New to OPPassessment? Find out how to register.