Appreciating Differences eBook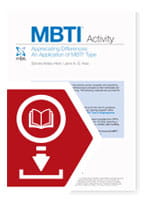 MB7019e
Appreciating Differences exercise eBook
MBTI® Activity Series exercise: appreciating differences and preferences within a group or team
This type exercise is designed to help teams or groups of people who work together in an organisational setting. It will help participants appreciate each of the preferences. The eBook format is ideal for working in virtual situations, delivering a pdf direct to clients.
MBTI Activity Series type exercise - eBook.
The exercise can be done in several small training segments, e.g. after work, in discussion groups, or at lunch sessions. In working through each of the preference pairs, people may find themselves reshuffled into new groups. This can generate engagement as people meet with others of the same preference and discuss its strengths and blindspots.
Applications: team building, leadership development, career development  
Type preferences studied: all preferences
Time required: 60-80 minutes