Systematic Problem Solving eBook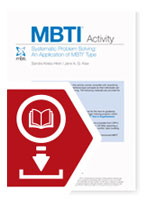 MB7013e
Systematic Problem Solving exercise eBook
MBTI® Activity Series exercise: how different functions contribute to group problem solving
This group exercise is designed to demonstrate how the systematic, sequential use of the Sensing, iNtuition, Thinking and Feeling functions contributes to group problem solving. The eBook format is ideal for working in virtual situations, delivering a pdf direct to clients.
This group exercise also helps participants to identify their blind spots in decision making and problem solving.
MBTI Activity Series exercise - eBook.
Applications: communication, team building, leadership development
Type preferences studied: dominant functions in S, N, T & F groups 
Time required: 60 minutes