Schmooze or Lose eBook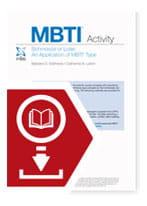 MB7009e
Schmooze or Lose exercise eBook
MBTI® Activity Series exercise: typical behaviours of types when influencing others
This group exercise is a game designed to develop type flexibility by expanding participants' MBTI communication style repertoire using the function pairs. The eBook format is ideal for working in virtual situations, delivering a pdf direct to clients.
This group exercise focuses on typical behaviours associated with each type when people are trying to win someone over to their point of view or influence their thinking.
MBTI Activity Series exercise - eBook.
Applications: communication and influencing
Type preferences studied: functional pairs – ST, SF, NT, NF
Time required: 55 minutes