MBTI Activity Series Exercise: Crossing Type Cultures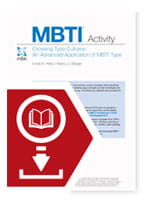 MB7004e
Crossing Type Cultures exercise eBook
MBTI Activity Series exercise: crossing type cultures for improved effectiveness
This group exercise is designed to deepen people's understanding of type differences. The eBook format is ideal for working in virtual situations, delivering a pdf direct to clients.
This group exercise will enable participants to practise flexing their type to increase effectiveness when interacting with others, and raise their awareness of type biases and stereotyping.
MBTI Activity Series exercise - eBook.
Applications: improving effectiveness in co-working, managing and supervising
Type preferences studied: whole types
Time required: 90 minutes