Judging and Perceiving: Definite and tentative statements exercise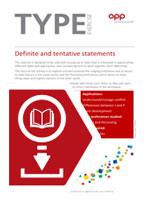 JT0928e
Judging and Perceiving: Definite and tentative statements exercise eBook
Type exercise: how to use the Judging and Perceiving preferences to recognise and appreciate different approaches to working together.
This interactive type exercise is particularly useful with groups of people who know one another and work together regularly. The eBook format is ideal for working in virtual situations, delivering a pdf direct to clients.
This interactive type exercise also encourages participants to discuss differences in working styles, and focuses on encouraging individuals to think about the strengths and challenges involved in working together. The exercise comes with example debrief questions for the facilitator to use, as well as typical responses from preference combinations. 
Type exercise series – eBook
Applications: Understand/manage conflict, Value diversity, Team development 

Type preference studied:  J/P
Time required: 25 - 30 minutes