Whole type: Typie Talents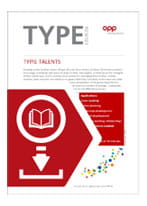 JT0925e
Whole type: Typie Talents exercise eBook
Type exercise: how to use whole type to understand the natural gifts each type has. The exercises can be used in a range of individual, group or team settings, and for a range of applications.
This interactive type exercise can be run as one large exercise or three shorter exercises. The eBook format is ideal for working in virtual situations, delivering a pdf direct to clients.
The exercise focuses on encouraging individuals and teams to think about the strengths of their whole type, and to develop some actions for leveraging them further. These exercises can be used once all members of the group have decided their best-fit type, and can be used in a number of settings. A helpful factsheet on strengths-based learning and useful facilitator debrief information is included.
Type exercise series – eBook.
Applications: team building, action planning, leadership development, personal development, improving working relationships
Type preference studied: Whole type
Time required: 60 minutes (3 x 20 minutes)