Problem solver posters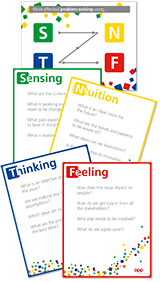 JT0908
Problem solver posters (5 poster set)
Resources to support decision-making events
These reusable flipchart-sized posters are an invaluable tool for running highly effective group sessions on improved decision making and problem solving.
They provide participants with an easy to grasp framework (sometimes called the Zig Zag model) and help them to balance their natural preferences. 
One poster describes the model and the other four posters prompt questions relevant to each of the functional preferences. This poster set can be complimented by Pocket problem solver cards which users can take away with them to help them with decision making or problem solving every day.