Introduction to Type and Leadership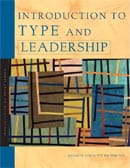 Introduction to Type and Leadership
Use MBTI® type to develop more effective leaders of every type
Equip leaders with a leadership map for charting their own course to becoming even more effective.
Why it's useful
Strong leaders provide direction to their teams, peers, and organisations. But who provides guidance to those leaders? Introduction to Type and Leadership offers a unique Leadership Map that helps leaders chart their own course to becoming even more effective. Trainers and coaches will find a wealth of material on the strengths of leaders of each personality type, as well as areas requiring development, to create a personalised and pragmatic road map for the continued growth of any leader.
Together with Introduction to Type in Organizations and Introduction to Type and Emotional Intelligence, this booklet adds to a suite of products that helps create stronger organisational management and a robust succession planning pipeline.
Who it's for
This book is aimed at leaders looking to increase their effectiveness, along with coaches, mentors and trainers dealing with leadership development. Its purpose is to help leaders become more successful in facing the challenges of a rapidly changing business world.
How to use it
The booklet provides a pragmatic approach for improving your effectiveness and shows how you can apply knowledge about your personality type to improve. No matter what kind of organisation or group you lead, or what your leadership style is today, learning how your personality type affects your leadership will help you
Identify inherent leadership potential
Examine habits that might be limiting a leader or potential leader's success
Broaden an individual views on becoming a more effective leader
Stretch people to try new behaviours
Tailor a plan to improve leadership skills while staying authentic and true to a person's inherent nature
What's inside?
Type and Leadership looks at the "Sixteen Paths to Leadership" through the lens of each of the 16 MBTI types. It has five sections:
"Understanding Leadership" – what leaders do, and the importance of emotional intelligence for effective leadership
"Personality Type Basics and Dynamics" – the building blocks of personality type theory, plus an introduction to type dynamics
"Type Development and Leadership Development" – how the two are related, and how successful leaders move from being specialists to being generalists
"Mapping Your Leadership Landscape" – the Leadership Map, enabling leaders to identify development areas
"Sixteen Paths to Leadership" – leadership profiles of the sixteen personality types. Assets, challenges and specific ideas for each type.
This item has been superceded by MB6276
Related products
Apply MBTI insights to other common challenge areas.