April is stress awareness month
Posted 08 April 2016 by
Penny Moyle, CEO at OPP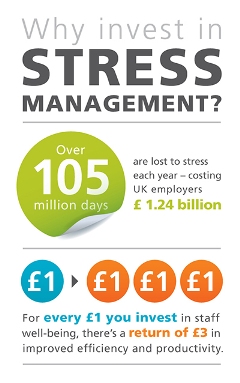 Since 1992 April, has been designated a Stress Awareness Month. To mark this event, we are rolling out a series of new resources to provide insights to manage stress and build personal resilience.

This week's resource is a new Quick Guide to Everyday Stress.
Why everyday stress?

MBTI practitioners will be familiar with the resources already available that help us understand ourselves under severe or prolonged stress, particularly the wonderful work of Naomi Quenk, author of 'In the Grip' and 'Beside Ourselves'. However, a lot less has been written about the much more common experience of dealing with the low and moderate pressures that we handle every day. There is a great deal of value in learning how to keep ourselves from sliding down the negative performance slope that stress and anxiety can bring.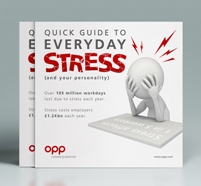 The new online 'Quick Guide to Everyday Stress' is an accessible and free overview of what triggers stress reactions, what this looks like, and how a knowledge of the MBTI framework can help.
We hope that MBTI practitioners will use the Quick Guide to raise awareness about opportunities to understand and manage everyday stress, and to help more individuals, teams and organisations maintain peak performance.
Over the coming month we'll also be releasing other new stress-related resources to support our MBTI qualified practitioners with the tools and understanding to deliver stress-busting results for their clients.
The new stress-related materials feature our recently shared, and very popular, Core Characters. If you haven't already, it's worth viewing our introduction to the Core Characters and how we've been using them to help people access the power of Type dynamics (decoding communication issues), without getting bogged down in the theory and mechanics. We've had fantastic feedback about how these visuals are enabling even those new to MBTI Type to quickly access the benefits of the MBTI framework. That's why we're using an evolution of the same Core Characters to create an easy and memorable way to understand and manage everyday stress.

We'll be showing what happens to the Core Characters when they are exaggerated under everyday stress, as well as what happens when they succumb to 'the Grip' of their least favourite part of their personality (the inferior function).
Although stress is a serious topic, these light-hearted characters can really help cut through the tough stuff while providing positive messages about how to keep in balance and build resilience.
If there are other areas you find tricky to explain then let us know. We're always interested in developing new ways to harness and share the power and lifelong applications of the MBTI framework.
Practitioner Resources
*Blog contains links to free slide decks exclusive to MBTI qualified practitioners.
We hope you find these resources useful and let us know how you use them.
We always welcome your feedback about this, or future blog, or resource themes.


Free webcast
Everyday stress: avoiding, surviving, mastering. Sign up for the live April 22 event. If you missed this event, don't worry, you can listen back to any of our webcasts.
You can keep track of this series by subscribing to our blog, following us on LinkedIn, Facebook or Twitter or keeping an eye on our summary page where you'll find new links added as the slide decks are published throughout month and in to the start of May.