Leadership assessment services
Leadership assessment services
Identifying leadership skills and readiness
across your organisation

The Myers-Briggs Company Consultancy helps organisations identify the next generation of leaders so that you have a pipeline. We also assess individuals or cohorts of existing leaders to help you to understand what they need to do in order to deliver your organisation's strategy.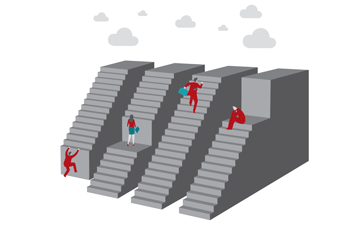 For organisations to remain successful they need the right leaders in place, now and in the future. Our extensive experience of working with leaders globally and across industry sectors provides us with the understanding of what makes a great leader to suit different contexts. We can help you conduct a talent audit to identify your next generation of leaders and evaluate whether existing bosses are ready to face their next leadership challenge.
Defining success - In order to develop an effective assessment that will deliver your business strategy we work with you to define what great leadership looks like in the context of your current business needs as well as working with you to anticipate the leadership qualities that will help secure your future success.

Evaluating people - We can provide leadership assessment as a 1:1 process, or we can run interactive and challenging assessment sessions for a group or cohort. We assess leaders using our robust methodology incorporating ability, personality, and behavioural assessments to identify strengths, motivations and development priorities. We identify the presence of catalysts that will allow leaders to rise to the challenge of the next level of leadership. After analysing all the information we produce a detailed report for the organisation, supported by feedback to your senior stakeholders.

Growing capability - We help you grow the capability of your organisation by aligning your business challenges to your leadership requirements. Following on from our assessment we provide in-depth feedback and coaching support to help leaders become aware of the catalyst factors that will enable them to grow and develop, lifting themselves, their teams and their organisations to greater heights. For those who are unsuccessful we provide helpful feedback and ensure they leave with a positive impression of the process.
| | |
| --- | --- |
| British Library | A development programme to stretch and test participants' current skills by exposing them to leadership challenges faced at senior levels in the organisation. It has promoted an awareness of leadership style and a greater focus on the importance of these behaviours. |
Read more
Consultancy case studies