Transitions through change
Supporting transitions through change
Helping your people to successfully navigate
their way through change

The Myers-Briggs Company's experienced consultants partner with organisations to align their business strategy with their people strategy and support their staff to psychologically adjust to change.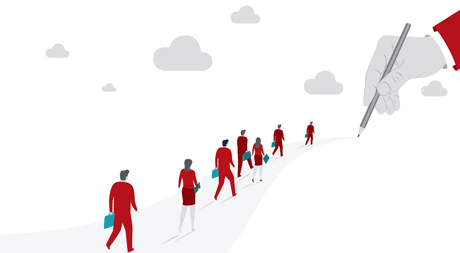 Change is inevitable if a business is to move forward. However, the prospect of change and the way it is managed can sometimes lead to fear and resistance, creating a barrier to achieving the organisation's goal. We support organisations and their people in successfully navigating through change. Our experienced consultants provide a range of solutions to support you during your change initiative, from enabling individuals or teams to understand the psychology of change, to helping you align people strategy with business direction.
We help people understand the psychology of change, working at a deeper level with individuals to help raise their self-awareness of how they respond to change and how others may respond differently. This enables them to challenge the assumptions and barriers that can inhibit the acceptance of change. Only then can people really come to accept change and get on board with the organisation along its journey.
We help change to 'stick' by aligning your people strategy to your organisational strategy. This may involve working with you to define new values, competencies, leadership behaviours and vision. These activities are essential in reaching a common understanding of purpose and how to get there. Our approach is to go deeper into understanding the current state of the organisation, culture, norms, and present and future challenges. We then help to future-proof the organisation to meet these challenges and to successfully embed the change.
| | |
| --- | --- |
| | Specifically designed to help people build resilience, and with particular pertinence in times of change. Individuals realised that it wasn't just them reacting in a particular way – a very helpful insight. The MBTI reports helped the management team articulate their concerns and support colleagues and staff during the period of change. |
| | The development programme designed to create sustainable leadership, critical to delivering strategic outcomes. "It was a case of opening up possibilities, underlining necessities, instilling confidence and looking at the pipeline for future leaders" An opportunity for people to reflect on self, role and strengths, and to look at aspects of effective teamwork. |
Read more
Consultancy case studies