Training calendar 2017
In the diary
Expand your skill set in 2017 – OPP's UK training dates are now available
Take a look at our new training calendar, book your courses and make 2017 a great year for training and development.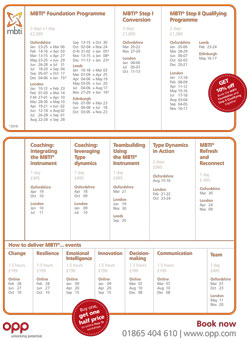 Whether you want to become qualified in a new psychometrics tool or you want to build on your existing training and qualifications, the OPP 2017 training calendar will help you to decide what to do.
MBTI training includes the MBTI Foundation Programme, MBTI Step I Conversion and MBTI Step II Qualifying Programme, along with coaching, team development, Type dynamics, MBTI refresh and 'How to deliver...' courses.
Training in the FIRO, TKI and EJI instruments is on offer, as well as the Test User: Occupational, Ability and Test User: Occupational, Personality courses.
Special offer: book now and pay 2016 prices
Book any January, February or March course by 31 December 2016 and pay 2016 prices.
See the 2017 training calendar and find out more about our training programmes.